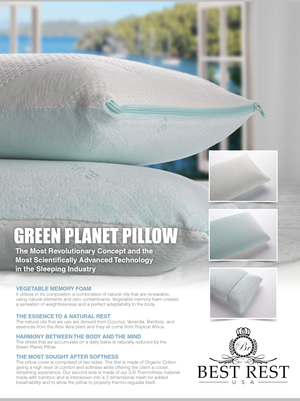 Green Planet Body Pillows 150 and 135cm (59 and 53in)
Sale price Price $220.00 Regular price $349.00
Green Planet Pillow
A Truly Unique Product Which Has Arrived to
Revolutionize the Sleeping Industry
BALANCE BETWEEN SCIENCE AND NATURE
Green Pillow Has Been Developed With the Most Scientifically Advanced Technology and Superior, Innovative Materials
VEGETABLE MEMORY FOAM
Green Planet Pillow is the result of decades of research by our company. It is composed of a revolutionary combination of natural oils, natural and renewable elements and it contains zero contaminants and toxins. It also includes a 50% soy based formula never seen in the bedding industry before. 
Our extensive investigation and testing have led to find a perfect level of support and density in a light weight pillow. This optimal combination creates a sense of weightlessness and an ideal contour for your head, neck and shoulders, guaranteeing the most comfortable and restful sleep. Most memory foam pillows are bulky, heavy and offer poor support.  Our exclusive design is lighter and yet more supportive. By effectively distributing the weight evenly, it eliminates the pressure points and stimulates natural blood flow. 
IT OFFERS A PERFECT EQUILIBRIUM BETWEEN DENSITY, WEIGHT AND SUPPORT
THE ESSENCE TO NATURAL REST
The natural oils we use are derived from Coconut, Verenda, Bamboo, and essences from the Aloe Vera plant that come from Tropical Africa.  This perfect combination of natural and renewable eco-friendly sources provides our pillow with natural Aromatherapy which calms and reduces stress. The pillow cellular nucleus holds the essences of these natural oils which release a subtle enjoyable fragrance that physically induces to a better sleep. It is hypoallergenic, designed to minimize the possibility of an allergic response, as it contains no potentially irritating substances.
HARMONY BETWEEN BODY AND MIND
Green Planet Pillow helps to naturally reduce the stress that we accumulate on a daily basis.  It was designed to provide the optimal level of support with superior comfort.  The pillow's aerating channels create a maximum level of breathability, allowing air to flow so the pillow can to respond and self-adjust to changes in temperature. Green Planet Pillow helps our body to reach a high level of relaxation that is key to a restful sleep.
YOUR PREFERRED LEVEL OF LUSH AND SOFTNESS        
The Green Planet Pillow cover is comprised of two sides that are removable and washable. 
The first (Winter) side is made of Organic Cotton giving a high level of comfort and softness while offering the customer a cooler, refreshing experience. It is made of  superior quality materials imported from the Himalayas and has excellent thermo-regulatory qualities. It provides a cool feeling in the summer and a cozier feeling in winter.  
The second (Summer) side is made of our exclusive 3-D Thermofress material, made with bamboo and interwoven into a 3 dimensional mesh for added breathability, which allows the pillow to properly thermo-regulate itself. It is designed to help hot flash sufferers sleep comfortably throughout the night as it adjusts to changes in temperature.  The 3D Thermofress also repels humidity, is hypoallergenic, antibacterial, naturally repels bed bugs and it is fireproof.
All materials are 100% Oeko Tex certified. Oeko-Tex is a prestigious, independent testing and certification system for textile products, and it is one of the world's most stringent certifications given to global textile companies to regulate the use of toxins or chemicals from the manufacturer all the way to consumer use. Holding this certification corroborates that The Green Planet Pillow is made of the most natural, non-toxic, environmentally friendly materials that provide an outstanding customer experience.
Heights 4 in
Width 14 in
Length based on model