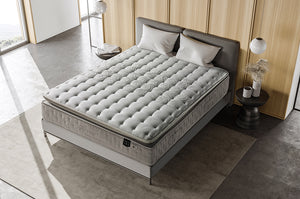 Harmony Mattress 12"
Sale price Price $7,460.00 Regular price $11,180.00
COMPOSITION
-Cotton Fabric And Natural Viscose
-Natural Padded Fibers
-Viscotermic (See Below)
-Hipersoft -Very soft high quality foam, with 1 kilopascal of firmness.
-AventO2 (See Below)
-Biocell - High density foam higher level of firmness.
-MicroCoils
Pocketed Coil System (Tecnosac)
-Politex - High quality foam of medium density
-Airfill - 100% hypoallergenic thermosetting polyester fiber
-3D Fabric – Bamboo and other fibers interwoven into a 3Dimensional Mesh
Ergonomic
Memory Foam Exterior Barrier for Stability
Independent Rest
Improved Circulation
Temperature Regulation
Using Italian Design and Italian and German Technology
AntiMite
Oeko-Tex Certified
Certipur
VISCOTERMIC® COMFORT TECHNOLOGY
In addition to the adaptability properties of Visco, Viscotermic® uses a new Comfort Technology that allows greater temperature control.
The incorporation of reactive PCM (Phase Change Material) microcapsules causes the absorption of excess energy (heat) when the body temperature rises. This same energy is subsequently released when the body temperature is reduced, thus maintaining thermal comfort.
COMBINED SYSTEM OF MICROCOILS + TECNOSAC NUCLEUS (POCKETED COILS) 1600
Dual Coil system formed in part by a multitude of Pocketed Micro Coils that provide optimal ergonomics and adaptation to the anatomy of the body.  They are combined with our Tecnosac Pocketed Coils which offer the optimal support.  Our Dual Coil System progressively adapts, supports and contours to the body depending on the shape and weight of the sleeper. The Dual Coil System is encapsulated with a high-density foam box, providing stability and reinforcing the sides of the mattress. 
PRINCIPLE BENEFITS
- Produces a microclimate by keeping the body in a comfort zone or ideal temperature range for longer.
- Increases the level of Thermal Comfort.
- Reduces sweating and perspiration.                         
- Improves considerably the quality of sleep.
AVENTO2
Unparalleled Comfort
Made with highly engineered fibers, offering a support layer that articulates effectively with the body contours. This material promotes the highest level of sleep guaranteeing a totally renewed and full of energy start to each day.
Aromatherapy
The stress we accumulate on a daily basis can now be reduced naturally with Avent02, employing aromatherapy with lavender and other herbs from the Swiss Alps.  This yields a soothing aroma, achieving a degree of relaxation that enhances sleep. 
Temperature
Microclimate without PCM
Microclimate with PCM
Comfort Zone
Time Frame
30 Celsius = 86 Fahrenheit
28 Celsius = 82.4 Fahrenheit